Personalized Chocolate with Plush Toys.
Medium sized teddy bear plush toys comes tied with chocolates as door gift or favor for your event. Suitable for baby shower events, baby full moon functions, baby naming ceremonies and kids birthday functions. Also can cater for weddings, parties and corporate events.
The teddy bears come in beige color with assorted color attires as in the picture. Many colors available.  Height of the bear is around 13.0 cm.
Chocolates we use: 'Kit Kat' (17 grams) OR 'Cadbury' (15 grams)
20 – 299 pcs – RM 6.50 each
300 – 599 pcs – RM 6.40 each
600 & above – RM 6.30 each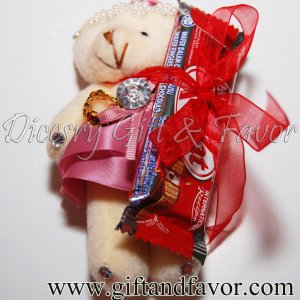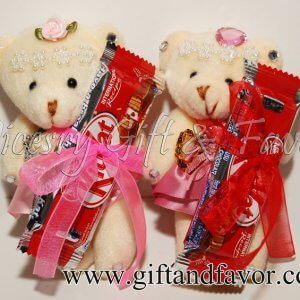 Special Orders from Customers. Door gifts for Christmas celebration!
Please contact us for price quote.